Moisturizing face cream N
geranium / lavender / rosemary
99% natural
About
Moisturizing silky cream, repairs and nourishes skin with shea butter and apricot kernel oil. The skin perfectly absorbs and hydrates, maintaining its youthful appearance.
Usage
Suited for normal to dry skin. Apply in morning and evening on your face and neck.
Characteristics
Hyaluronic acid has a crucial role in keeping skin healthy by keeping it moisturised and young looking. It has a positive effect on skin protection and restoration, making it elastic and hydrated.
Jojoba oil influences natural production of collagen and reduces wrinkles, securing sun protection as well. Also regulating sebum production, it is suitable for all skin types: normal, dry, oily, mature, and also for damaged, speckled and sensitive skin.
Vitamin E is a strong antioxidant, it protects cells from free radicals, restores and nourishes your skin, acting as a natural preserver.
Shea butter has balmy, anti-inflammatory effect while gently protecting skin from UV radiation and drying out.
Geranium essential oil soothes dry and tired skin, lavender relieves, while rosemary regenerates.
Ingredients
Aqua, Prunus Amygdalus Dulcis Oil, Glycerin, Simmondsia Chinensis Seed Oil, Cera Alba, Glyceryl Stearate, Cetearyl Alcohol, Butyrospermum Parkii Butter, Tocopheryl Acetate, Potassium Palmitoyl Hydrolyzed Wheat Protein, Sodium Hyaluronate, Phenoxyethanol, Ethylhexylglycerin, Pelargonium Graveolens Oil, Lavandula Angustifolia Oil, Rosmarinus O­cinalis Leaf Oil, Linalool, D-Limonene
Q&A
1. How are KOOZMETIK products stored?
KOOZMETIK products are best stored in a dark and cool place, where they are not directly exposed to the sun.
2. Do KOOZMETIK products have an expiry date?
All KOOZMETIK products have an expiration date of 12 months, or 6 months after opening.
3. How natural are KOOZMETIK products?
We try to be transparent and therefore each product has a percentage which indicates how natural it is. Products that are in the form of oils and fats are 100% natural. Cream products are 99% natural, while hair and face wash products are 89% to 94% natural.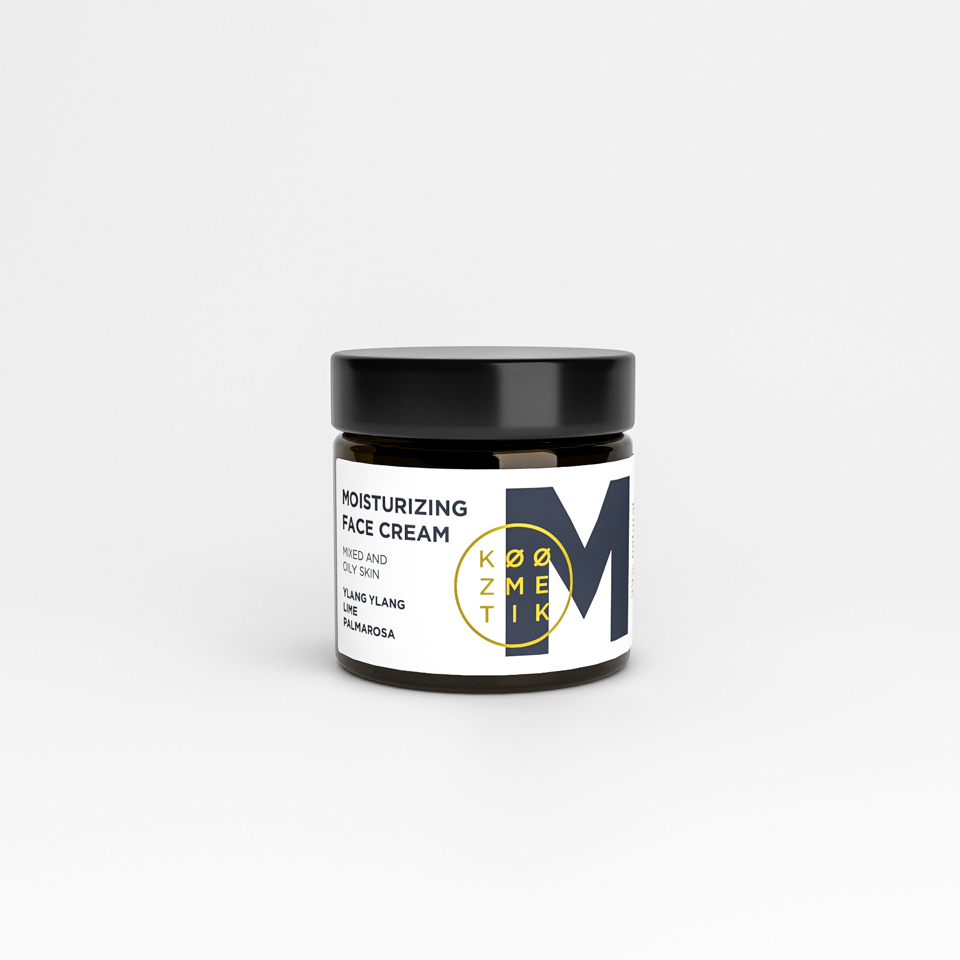 Moisturizing face cream M
For mixed and oily skin
ylang ylang / lime / palmarosa
99% natural
42.00€ VAT is included
+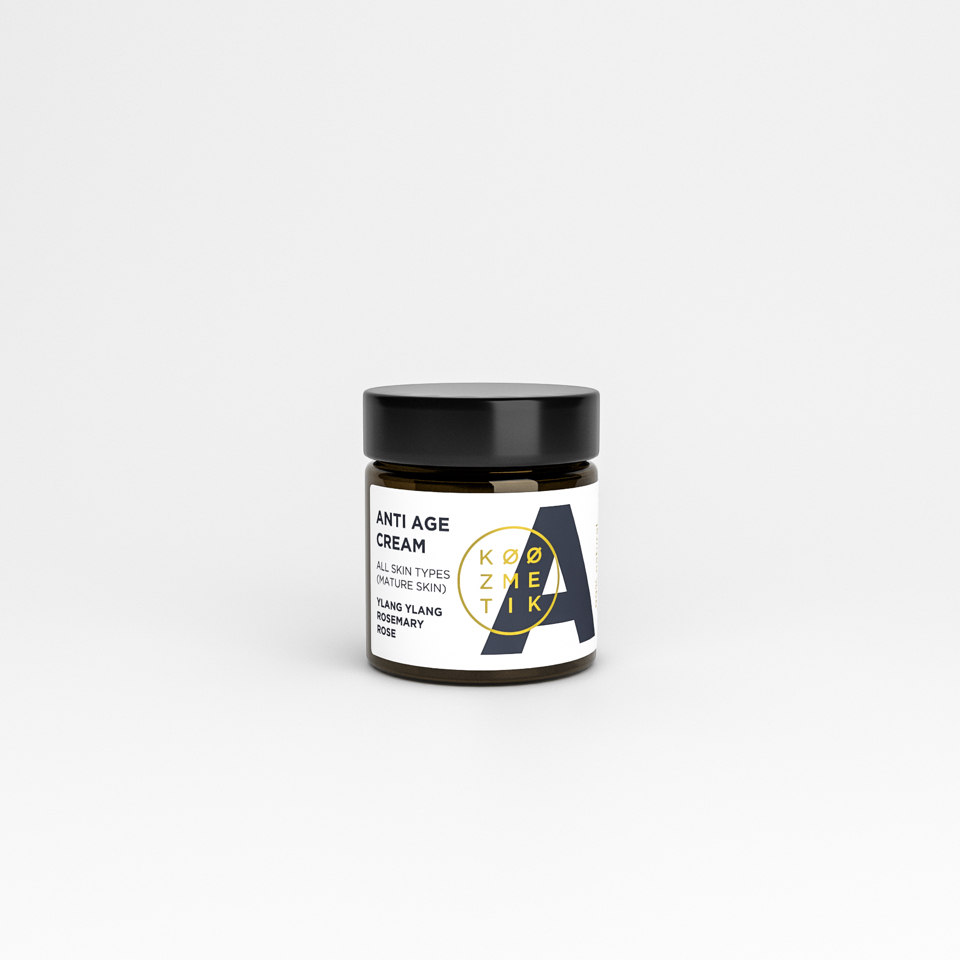 Anti age cream A
For all skin types (mature skin)
ylang ylang / rosemary / rose
99% natural
48.00€ VAT is included
+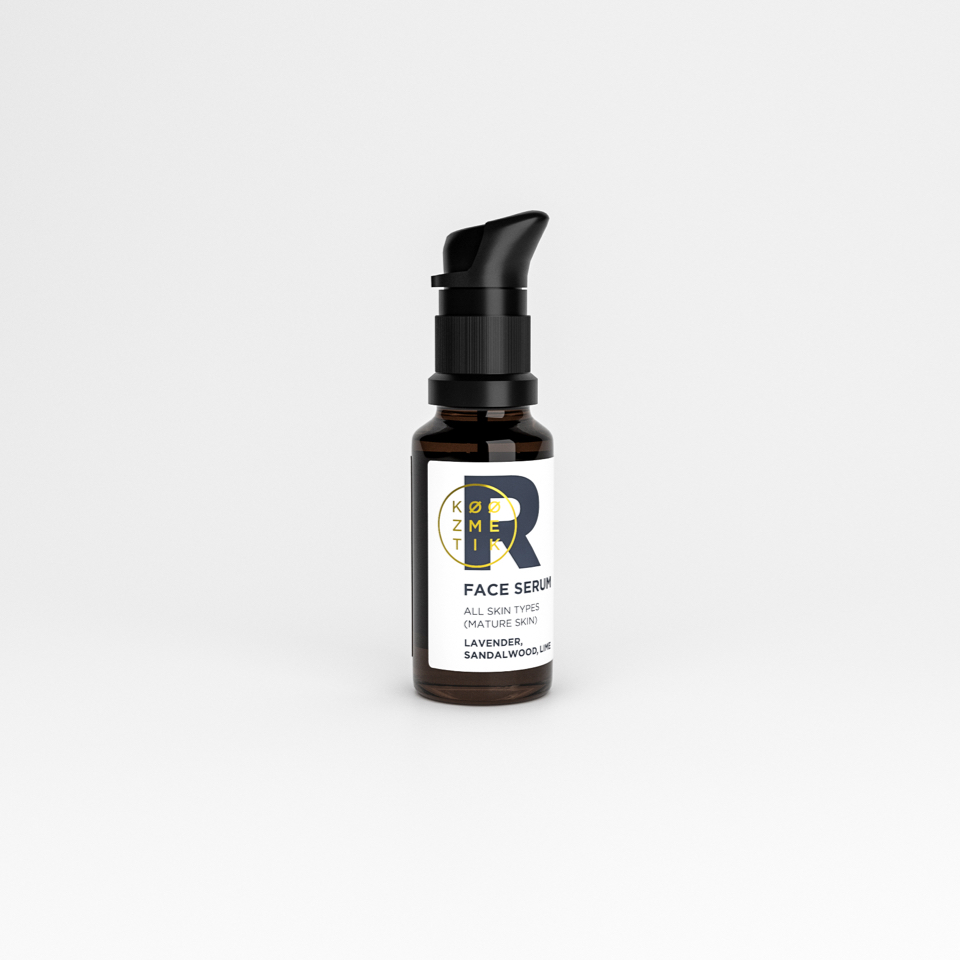 Face serum R
All skin types
lavender / sandalwood / lime
100% natural
25.00€ – 43.00€ VAT is included
+