Anti age cream A
ylang ylang / rosemary / rose
99% natural
About
Silky texture cream with active ingredients from nature, sea collagen and raspberry extract. Improves tone, relieves wrinkles, and deeply nourishes and hydrates the skin. Suitable for all skin types. It can be applied to the under-eye area and the entire face as well.
Usage
Apply each morning and evening around eyes. It can also be used as nourishing cream on your face, neck and upper cleavage.
Characteristics
Hazelnut oil is a strong moisturizer that softens skin, easily absorbed it is rich with omega-9 fatty acids and vitamin E.
Grape seed oil is an antioxidant, contains oleic and linoleic acids, regenerates and renews skin. Reduces puffy eyes, nourishes and prevents ageing process. It preserves collagen levels and skin elasticity.
Monoi de Tahiti butter, exotic, high quality, based on coconut oil enriched with gardenia flowers from French Polynesia. It softens, moisturizes and nourishes your skin.
Vitamin E is a strong antioxidant, it protects cells from free radicals, restores and nourishes your skin, acting as a natural preserver.
Natural collagen moisturises and soothes your skin, prevents the appearance of smaller lines and wrinkles, corrects skin irregularities, scars and speckles.
Raspberry extract is rich in vitamin E, omega-3 fatty acids and contains natural sun protection (SPF).
Ylang Ylang comes from the Philippines, where it has been known as the 'supreme flower', it regulates sebum production, rosemary regenerates skin, while rose gives fragrance and agrees well with mature skin.
Ingredients
Aqua, Corylus Avellana Seed Oil, Glycerin, Vitis Vinifera Seed Oil, Glyceryl Stearate, Cetearyl Alcohol, Cetyl Alcohol, Rubus Idaeus Seed Oil, Tocopheryl Acetate, Soluble Collagen, Cocos Nucifera Oil, Potassium Palmitoyl Hydrolyzed Wheat Protein, Phenoxyethanol, Gardenia Tahitensis Flower Extract, Ethylhexylglycerin, Cananga Odorata Flower Oil, Rosmarinus O­cinalis Leaf Oil, Rosa Damascena Flower Oil, Parfum, Camphor, Limonene, Linalool
Q&A
1. How are KOOZMETIK products stored?
KOOZMETIK products are best stored in a dark and cool place, where they are not directly exposed to the sun.
2. Do KOOZMETIK products have an expiry date?
All KOOZMETIK products have an expiration date of 12 months, or 6 months after opening.
3. How natural are KOOZMETIK products?
We try to be transparent and therefore each product has a percentage which indicates how natural it is. Products that are in the form of oils and fats are 100% natural. Cream products are 99% natural, while hair and face wash products are 89% to 94% natural.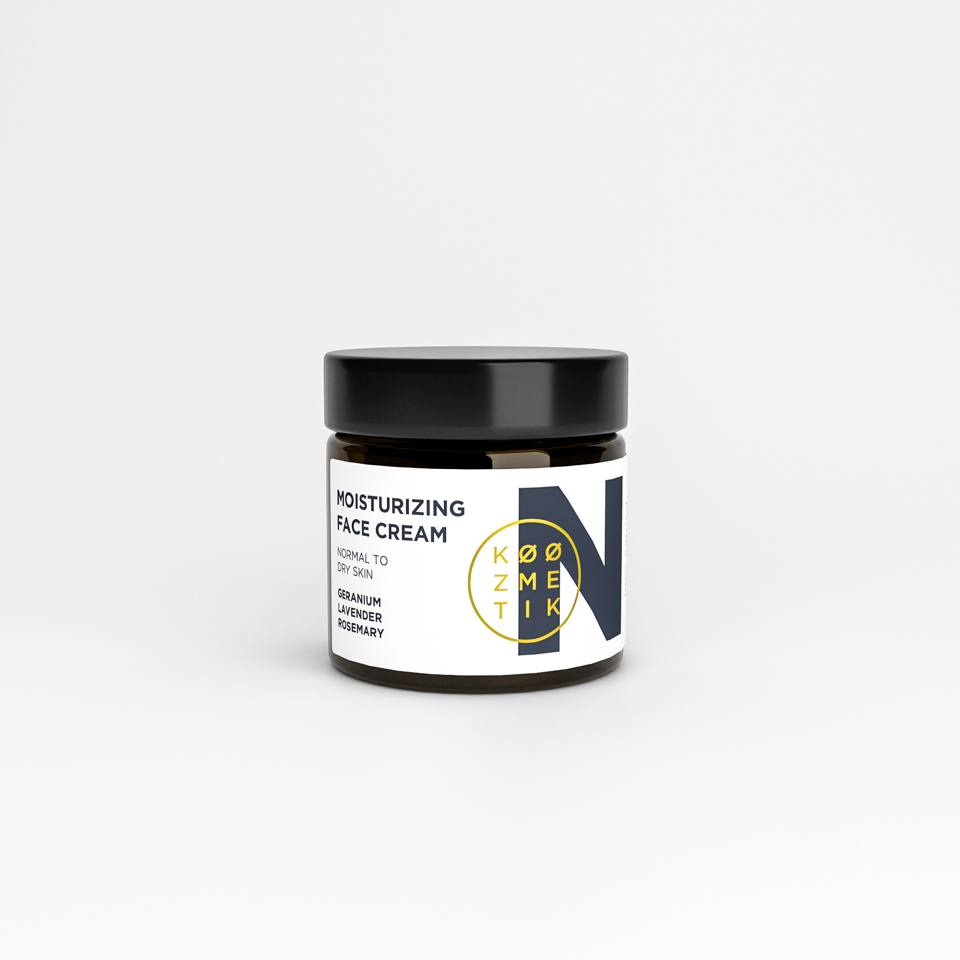 Moisturizing face cream N
For normal and dry skin
geranium / lavender / rosemary
99% natural
42.00€ VAT is included
+