Hand cream V
sandalwood / rosemary / neroli
99% natural
About
Nourishing cream for intensive care, hydration, and protection of your hands. Enriched with aloe vera, macadamia oil, and shea butter. What makes it special is the feeling of hydration and silky texture on the skin without the greasy feeling.
Usage
Apply on hands when needed. For external use only. Keep in a dark and dry place.
Characteristics
Coconut oil has been used in cosmetics and cooking for centuries and is known as super-oil with healing qualities. It is rich in natural vitamin E and lauric acid which has antibacterial, antifungal, antiviral and antioxidant effects, and also a natural SPF factor 4-6.
Shea butter gently nourishes skin, it has anti-inflammatory effects, protects skin from UV radiation and dryness.
Avocado oil is very valuable in cosmetics due to its regenerative and moisturising qualities. Rich in vitamin A, B and D, saturated and unsaturated fatty acids and lecithin.
Macadamia Nut Oil contains the highest percentage of palmitoleic acid compared to all other herbal oils. This acid protects the skin in the same way as sebum (sebaceous gland excretion, which is reduced with ageing). Leaves skin looking younger, softer and healthier.
Natural beeswax has antibacterial qualities.
Vitamin E is antioxidant that neutralizes the negative effect of free radicals and protects and repairs the skin, reduces fine lines and wrinkles.
Essential oils of sandalwood, rosemary and neroli regenerates the skin and gives elasticity and softness.
Ingredients
Aqua, Cetearyl Olivate, Sorbitan Olivate, Aloe Barbadensis Leaf Juice, Sodium Benzoate, Potassium Sorbate, Cocos Nucifera Oil, Butyrospermum Parkii Butter, Macadamia Integrifolia Seed Oil, Persea Gratissima Oil, Glycerin, Cera Alba, Allantoin, Tocopheryl Acetate, Phenoxyethanol, Ethylhexylglycerin, Rosmarinus Officinalis Leaf Oil, Amirys Balsamifera Bark Oil, Citrus Aurantium Oil, Limonene, Linalool
Q&A
1. How are KOOZMETIK products stored?
KOOZMETIK products are best stored in a dark and cool place, where they are not directly exposed to the sun.
2. Do KOOZMETIK products have an expiry date?
All KOOZMETIK products have an expiration date of 12 months, or 6 months after opening.
3. How natural are KOOZMETIK products?
We try to be transparent and therefore each product has a percentage which indicates how natural it is. Products that are in the form of oils and fats are 100% natural. Cream products are 99% natural, while hair and face wash products are 89% to 94% natural.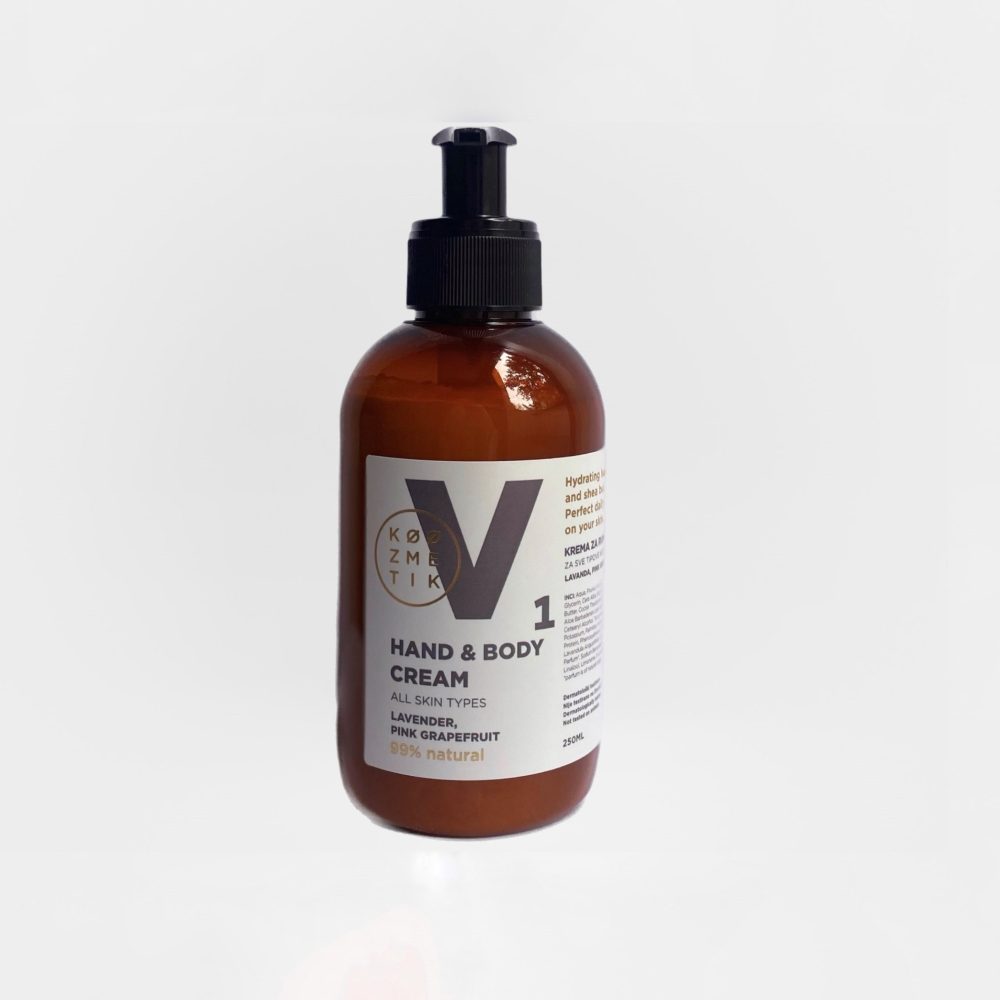 Hand and body cream V1
All skin types
lavender / pink grapefruit
99% natural
25.00€ VAT is included
+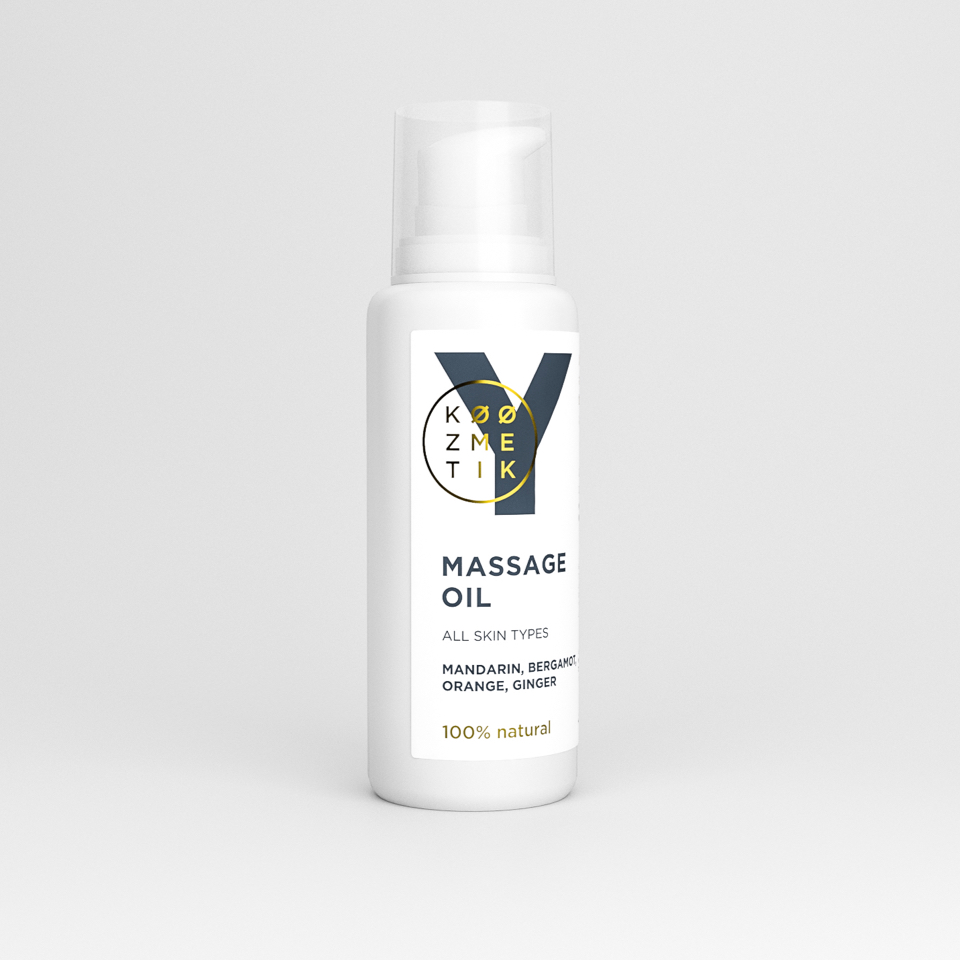 Massage oil Y
All skin types
mandarin / bergamot / orange / ginger
100% natural
20.00€ VAT is included
+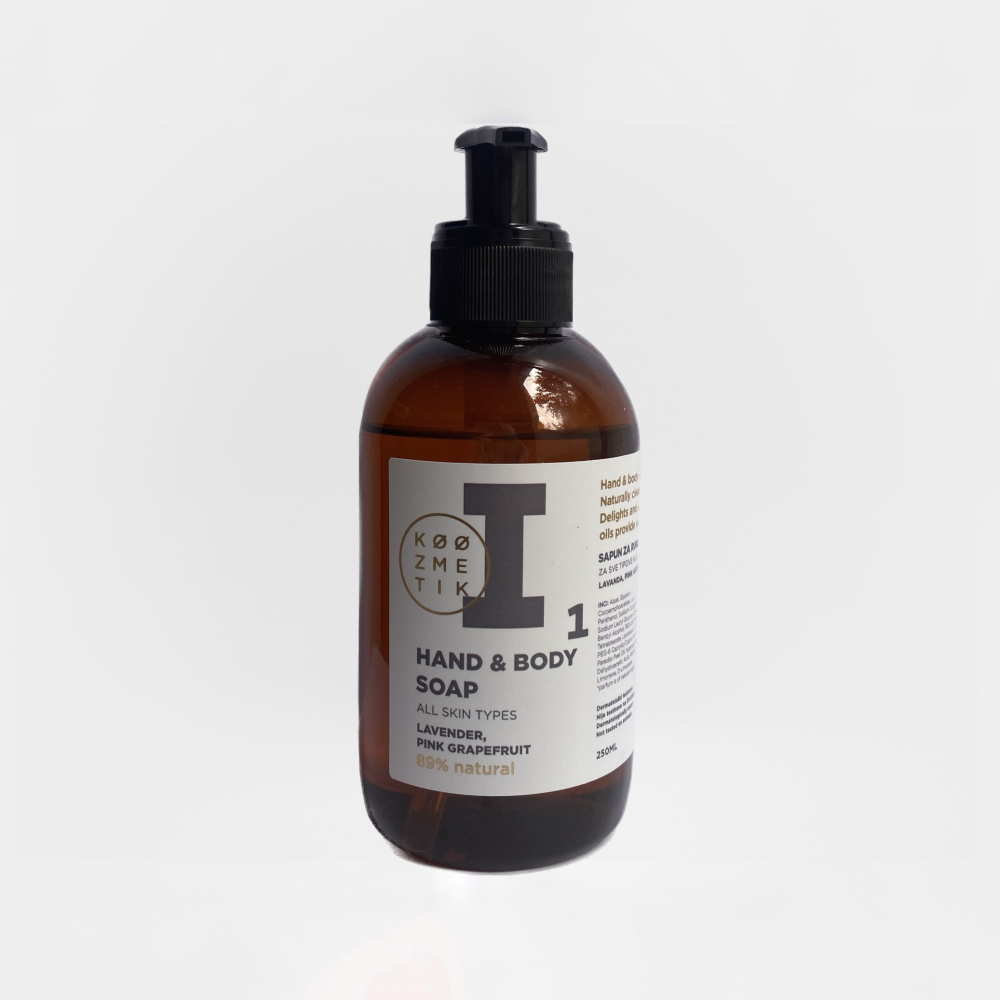 Hand and body soap I1
All skin types
lavender / pink grapefruit
89% natural
18.00€ VAT is included
+